Saahityam
Saamethalu
Sethakamulu
Rangasthala Natulu
Thyagayya Kirtanalu
Mee Page


Learn Telugu
Aksharaalu
Teachers


Pusthakaalu-Paperlu
Pusthakaalu
Vaarthaa Patrikalu


Meekosam
Chuttarikaalu
Jaathakaalu
Nammakaalu
Culture
Vishaya Soochika


Adhee-Idhee
Sanghaalu
Weblinks
Oorlu
STD Codes


Sankhyalu
Samvatsaraalu
Calendar - 2022
Calendar - 2021
Calendar - 2020
Calendar - 2019
Calendar - 2018
Calendar - 2017
Calendar - 2016
Calendar - 2015
Calendar - 2014
Calendar - 2013
Calendar - 2012
Calendar - 2011
Calendar - 2010
Calendar - 2009
Calendar - 2008
Calendar - 2007
Calendar - 2006
Calendar - 2005
Calendar - 2004
Calendar - 2003
Calendar - 2002
Calendar - 2001
Calendar - 2000


Paatalu-Cinemalu
DVDs
Cinema


Music
Old Songs

Aada Paduchulu
Mahila

Daivikkam
Pandugalu
Deevenalu
Divine Links
Divine Books

Telugu-Biddalu
Pramukhaandhrulu
Contributors
Registration

Link to us
Links to our sites

Disclaimer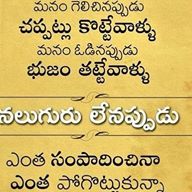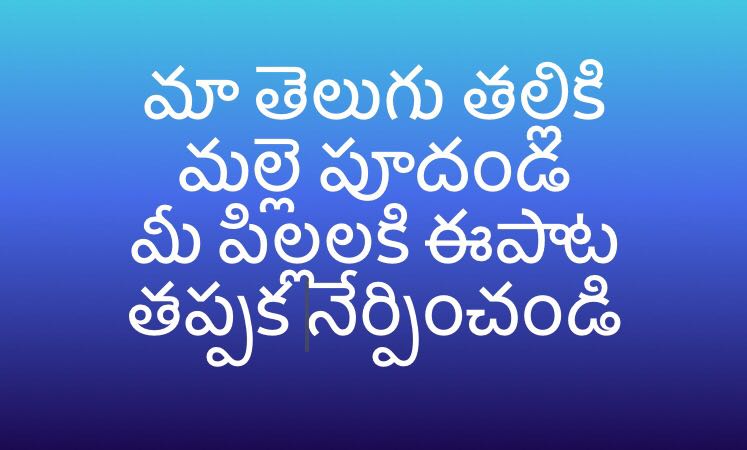 Mee Page
Mee contributions pampandi
  Endaro Mahaanubhaavulu 
  Andarikee Maa Vandanaalu 
  And Welcome to TeluguWebsite.com 
   World's first integrated Telugu site.
Nuvvae


Bandham nuvve grandham nuvve.
Ganam nuvve geyam nuvve.

Vedam nuvve aavedana nuvve.

Sayam nuvve prayam nuvve.

Deham nuvve pranam nuvve.

Aasa nuvve swasa nuvve.
Gunde nuvve Gunde chapudu nuvve.
Aakansha nuvve naku anni nuvve.
Naa praanam nuvve.


Vinta


Prapancham lo unna anni vinthallaaga..
manishi kuda o vinthe ga..
o nimusham olaa unte..
maru nimusham inkolaa...
...
..
.
Arthamkaani pravarthana tho..
alavi kaani aalochanalatho...
aa devuniki saitham artham kaani naijam tho..
abbura pariche gunaganaalatho..
okaru inkokarini talapinchani vidhamga..
unde ee manishi...
chitrame..bahu chitrame
aa devuni srushti aina ee maanavudu
kadu chitrame
Contributed by LAKSHMI PRIYANKA ,Blog :- http://manobhaavaalu.blogspot.in/




---



Naa meeda naakele Kopam


Naa meeda naakele kopam ...!!
Pedavulu navaina ..,
Palukulu neevainanduku ...!!
Kanulu navaina ..,
Kalalu neevainanduku ...!!
Adugulu naavaina ..,
Gamyam neevainanduku ...!!
Gunde naadaina ..,
Chappudu needainanduku ...!!
Nakante minnaga ninnu premistunnanduku ..,
Nee paina inta prema unna ..,
Adi neeto cheppalenanduku ...!!
Naameeda naakele kopam ...!!
Contributed by Prashanth Thota ,Blog :- prashu4u.faa.im



---



nenoka kavitha rasi chaduvuthunte,


Yeppudo yevaro vrasinattundhi
patha gnapakalalo naa kavitha soonyam ayindhi.
neti kaalam lo maro kavitha rasi chaduvuthunte,
maralaa yevaro vrasinattundhi.
yemicheyaleka nittoorusthoo, nenu naa kalam choosthoo,
kavithalu rayadam apeyalanukuntoo,alochisthoo alsipoyaanu.
Appudu  veligindhi. nenu vedike noothanathvam,
nannu vetaduthoo melkoluputhoonte,
navya punaadulapaina naa kavitha,
nirminchadam  "prarambinchanu" !
            Contributed by Ramesh Indupalli,Pearland,Texas.on 02.9.2013



---



Puja kosam puvvu
Telugu vari kosam e website
oka sari avvu login
apudu telustundi Telugu vadi POWER.
Contributed by kutumbaka seetaram,v.venkatayapalem. khammam on 04.06.2011



---

Ounu

Ounu
Nenu asprushyudiney
Aksharaani aayudhamga yekkupetti
Anyaayanni chedinchadamey naa neramaithey
Notu kosam votu ammukune
Baanisatvapu bratukunu melkolpadamey naa neramaithey
Kadupu teepi champukuni
Kanna pasikandunu pentapaljesey
Aadadanni kovvu madaanni prasninchadamey naa neramaithey
Bakkachikkina badugu pregulni maadchi maadchi eedchi eedchi vesey
Raajakeeya dopidee nidunamadamey naa neramaithey
Devuni deepam sakshiga
Gudiloki adugupettanivvani
Akrutyanni yedirinchadamey naa neramaithey
Koodu, goodu, batta neekentho naakoo anthey
Ane samanatwanni savaalu cheyadamenaa neramaithey
Antaraanitanam amanushatwam antoone
Prajaswamika sarvabhowmadhikaarathwam yemi chestondani
Veletti choopadamey naa naramaithey
Ounu
Nenu asprushyudiney
Naakipudu telisindi
Antaraanitanamey adhikaaramlo undani
Raktha sambandham lekunna
Adi naa (raa)bandhuveynani
Contributed by Kottapalli Udayababu on 23.9.2011



---

Madhuroha Malikalu
Tusharapu jallulu kavavi manchi mutyapu chinukulu
manchudibballu kavavi malachani parupu dontaralu

pillagalipilupulu kavavi gandukoyilala palukulu
neelimabbuvirupulu kavavi ningina merisina tarakalu

pakshula kilakilaravamulu kavavi pasipapa navvula kerintalu
pachhani pasirikalu kavavi tadisina pasidivannela kantulu

madinoohinchinavi kavivi madinidina drushyamalikalu
madhurohalato likhinchina adrushya varnaveechikalu

Contributed by Manju sree on 22.4.2008


---



DRINK WATER ON EMPTY STOMACH


It is popular in Japan today to drink water immediately after waking up every morning. Furthermore, scientific tests have proven a its value. We publish below a description of use of water for our readers. For old and serious diseases as well as modern illnesses the water treatment had been found successful by a Japanese medical society as a 100% cure for the following diseases:

Headache, body ache, heart system, arthritis, fast heart beat, epilepsy, excess fatness, bronchitis asthma, TB, meningitis, kidney and urine diseases, vomiting, gastritis, diarrhea, piles, diabetes, constipation, all eye diseases, womb, cancer and menstrual disorders, ear nose and throat diseases.

METHOD OF TREATMENT

1. As you wake up in the morning before brushing teeth, drink 4 x 160ml glasses of water

2. Brush and clean the mouth but do not eat or drink anything for 45 minute

3. After 45 minutes you may eat and drink as normal.

4. After 15 minutes of breakfast, lunch and dinner do not eat or drink anything for 2 hours

5. Those who are old or sick and are unable to drink 4 glasses of water at the beginning may commence by taking little water and gradually increase it to 4 glasses per day.

6. The above method of treatment will cure diseases of the sick and others can enjoy a healthy life.

The following list gives the number of days of treatment required to cure/control/reduce main diseases:

1. High Blood Pressure - 30 days

2. Gastric - 10 days

3. Diabetes - 30 days

4. Constipation - 10 days

5. Cancer - 180 days

6. TB - 90 days

7. Arthritis patients should follow the above treatment only for 3 days in the 1st week, and from 2nd week onwards - daily.

This treatment method has no side effects, however at the commencement of treatment you may have to urinate a few times. It is better if we continue this and make this procedure as a routine work in our life.

Drink Water and Stay healthy and Active. This makes sense .. The Chinese and Japanese drink hot tea with their meals ...not cold water. Maybe it is time we adopt their drinking habit while eating!!! Nothing to lose, everything to gain...

For those who like to drink cold water, this article is applicable to you.

It is nice to have a cup of cold drink after a meal. However, the cold water will solidify the oily stuff that you have just consumed. It will slow down the digestion.

Once this "sludge" reacts with the acid, it will break down and be absorbed by the intestine faster than the solid food. It will line the intestine. Very soon, this will turn into fats and lead to cancer. It is best to drink hot soup or warm water after a meal.

A serious note about heart attacks: Women should know that not every heart attack symptom is going to be the left arm hurting.

Be aware of intense pain in the jaw line.

You may never have the first chest pain during the course of a heart attack.

Nausea and intense sweating are also common symptoms.

60% of people who have a heart attack while they are asleep do not wake up.

Pain in the jaw can wake you from a sound sleep. Let's be careful and be aware. The more we know, the better chance we could survive...

A cardiologist says if everyone who gets this mail sends it to everyone they know, you can be sure that we'll save at least one life. Please be a true friend and send this article to all your friends you care about.

I just did!!!**

Contributed by Rama Tulasi.Tummala, Vatluru,W.G.DT on 7.9.2007.


---



Mora


Pillala chaduvula feejulato
Nelasari sarukula lekkalato
Perugutu poyae addelato
Chinna chitaka appulato
Adapa dadapa sustulato
Chalee chalani jeetamuto
Samgham chusae chupulato
Manasulu guchae matalato
Alu biddala korkelato
Adambarapu kharchulato
Tarachuga vachee bandhuvulato
Kondaga marina pandagato
Tatalu ichina paruvulato
Madhya taragatula vaadanato
Batiki chachinna momulato
Marchestadani aasalato
Mora vinamanna devunito

Contributed by M.Jayasimha


---



Age of Telugu


Telugu is a richly developed language and the biggest linguistic unit in India, second only to Hindi. Linguistically, the language has deviated a good deal from its southern sisters ¡§C Kannada, Tamil and Malayalam. It is the state language of Andhra Pradesh. It¡¯s an old one too, with origins as early as the 1st century AD, or perhaps even before as one of the later Vedas (700BC) mention the Andhras, another name for the people of Andhra Pradesh. Early inscriptions of the language date from around the 6th century, but a proper literary career starts five centuries later. The script, almost similar to that of Kannada, took shape in 1000AD from the Pahlava script of 7AD.

Contributed by Ravi Sams on 14.06.2007


---



Naagarikatha


Vila vila laadindi Originality
Palchabadi poyindi Personality
Kothha pokadala Curiosity lo
Naligi poyindi Naturality.



Vaarala Vanitha


Aadivaaramu nadu agupinchindi
Somavaramu nadu sogasu visirindi
Mangalavaramu nadu mattekkinchindi
Budavaramu nadu bolta kottinchindi
Guruvaramu nadu gurtu pattanandi
Sukravaramu nadu sushka mandahasamu chesi
Sanivaramu nadu sasesha manipinchi
Adivaramu nadu malli kanipinchindi

Contributed by Aachi Ramana on 12.04.2007


---



Priyurali Hrudayam


saagaram entha lothundo evariki telusu
nelanu thaaki daagude muthyapu chippaku thappa
priyuraali hridayamlo emundo evariki telusu
prema anchulni sprusinche premikuniki thappa.



Sthree Chittam


aswaplutham vasava garjanancha
sthreennancha chittam purushasya bhagam
devo na jaanaathi kutho manushayaha

Sanskrit Translation to telugu :

aswam eppudu dumuku thundo
megham eppudu garjistundo
sthree chittam eppudu maaruthundo
purushuni bhagyam eppudela vuntundo
Daivaanike theliyadu Manamentha...?

Contributed by Sumana on 19.12.2005


---



Tholi Chinukula Savvadi


Neeli mabbula chaatuna daagina chiru chinukula andam
Nindu vesaviloo kurisina jallulaku pulakarinchina
Nela thalli suma gandham
Vaanaloo thadustoo haaini anubhavinchi
Raagaalu teese kokila swara gaanam
Thadimina prathi chinukuloo maadhuryam
Prakruthi odiloo nenu thanmayam chendina vainam
varnanaatheetham,sumadhura anubhavam.

Contributed by Y.Kiran babu


---

Gunde lothullo emundo ela thelustundi
thaluputhatte aathmeeyatha labhinchedaka...
Mandutendallo daham elatheeruthundi
challadanam andinche megham kurisedaka....
Ee kavithku prasamsa eladorukutundi
spandinchi chadive kavihridayam dorikedaka.....

Contributed by Sumana


---



Apuroopam



Muddhocche naasika pai chinni nokke apuroopam
amaayakapu kannullo aashcharyame apuroopam
kurula sirulalo viraboosina gulaabee apuroopam
aravippaarina pedavula pai chirunavve apuroopam
jaaluvaare chekkili pai tholi sigge apuroopam
nannalarinche na cheli pilupu lo naa pere naaku apuroopam

Contributed by ~M~the~Magic


---

Niraasa nispruhalato nenu nistejamaina vela,
aasalaa navvinchindi nee talapu

Nishphala yendamavula kay parugu teesinavela,
selayerai seda teerchindi nee pilupu...

Aasaya saagara madanamulo nenu alasinavela,
amrutha hastamai aadarinchindi nee valapu...

Jeevana padmavyuhamlo daarulanni moosukupoyinavela ,
apyaayamga aahvaninchindi nee hrudi talapu.....!!

Contributed by Vamsi Krishna


---



Gunde Gopuram


Naa manasulo daagi vundi neevu kadaa
Naa gunde gopuramlo nindi vundi neevu kadaa
Ne kanna kala neevu kadaa
Naa prati sparshalo nee alajadi kadaa
Ne prati poota japinchedi nee peru kadaa
Ne peelche prati swasa ninnu thakina gale kadaa
Kanulu moosina nee roopame kadaa
Kanulu terichina nee roopame kadaa
Anukshanam nee gnapakame kadaa

Contributed by Paravasham


---

Idhi yemi Bhaamaro
Aa Bhaamademi Rupuro
Aa Rupamentha Sogasuro
Aa Sogasulenni Vampulo
Aa Vampulalo enni Valapulo
Aa Valapulalo enni Merupulo
Nanu mattekkimche Maimarapulo

Idhi Emi Bhaama Ro
Aa Bhamademi Rupuro

Contributed by Gurunath Duvvuru


---

O priya nuvvu leka naa manasu mooga boinade
O priya nuvvu leni ee ontari jeevithanni odarcha lekunnane
O priya cheragani nee gnapakalalo chikki vunnane
O priya nanu ne mai marichela preminchane
O priya na needalo saitham Nee roopame O priya !

Contributed by Paravasham


---



ELA


Pratikshnam nee dhyasela
Na kanullo nee roopamela
Nee pai nakintha premela
Gali takidiki nee sparshela
Nalo nake maikamela
Needa lo saitham nee chayela
Ee kaanti lo nee merupela
Pakruthilo intha saundaryamela
Bhoviki inthandamela
Na pedalapai anukshanam nee perela
Ayyanu nenu nuvvela
Nee korakai digulela
Nee pai intha thapanela
Nee premakai thapassela
Naa pai neeku dveshamela
Nuvvu leni na jeevithamela
Ninnu premisthunnanu karuninchavela
Mataduthunnanu maunamela
Sakshyam aa ningi nela
Alala na manasu chedirina vela
Jabile karigi chindenu vennela
Nee hrudayam matram karugadela.

Contributed by Paravasham


---
---



Year : 2020

Place : Two Americans at IBM, USA.
Currency Conversion Rate : Rs.1 = $100/

Alex : Hi John, you didn't come yesterday to office?
John : Yeah, I was in Indian Embassy for stamping.

Alex : Oh really, what happened, I heard that nowadays it has become very strict.
John : Yeah, but I managed to get it.

Alex : How long it took to get it stamped?
John : Oh, it was nasty man, long queue. Bill Gates was standing in front of me and they played with him like anything. Thats why it got delayed. I went there at 2 am itself and waited and returned by 4 pm.

Alex : Really? In India, it is a matter of an hour to get stamped for USA.
John : Yeah, but that is because who in India will be interested in coming to USA man, their economy has been booming.

Alex : So, when are you leaving?
John : Anytime, after receiving my tickets from the client in India and you know, I will be getting a chance to fly Air-India. Sort of dream come true.

Alex : How long are you going to stay in India?
John : What do you mean by how long? I will be settled in India, my company has promised me that they will process my Hara Patta.

Alex : Really, lucky person man, it is very difficult to get a Hara Patta in India.
John : Yeah, thats why, I am planning to marry an Indian girl there.

Alex : But you can find lots of US girls in Bangalore,Hyderabad and Mumbai.
John : But, I prefer Indian girls because they are beautiful and cultured.

Alex : Where did you get the offer, Bangalore?
John : Yeah, salary is good there, but cost of living is quite high, it is Rs. 1000/- for a single room accommodation.

Alex : I see, that's too much for US people, Rs.1/- = $ 100/-. Oh God!What about in Chennai, Mumbai?
John : No idea, but it is less than what we have in Bangalore. It is like the world headquarters of Software.

Alex : I heard, almost all the Indians are having one personal Robot for help.
John : You can get a BMW car for Rs. 5000/-, and a personal Robot for less than Rs. 7500/-. But my dream is to purchase Ambassador, which costs Rs.200000/- but has got a sexy design.

Alex : By the way, who is your client?
John : A pure Indian company, specializing in Embedded Software.

Alex : Oh, really, lucky to work in a pure Indian company. They are really intelligent and unlike American Bodyshoppers who have opened their Fly-by-night outfits in India. Indian companies pay you in full even when you are on bench. My friend Paul Allen, it seems,used his bench time to visit Bihar,the most livable place in India, probably world. There you have full freedom and no restrictions.You can do whatever you want! ! I wonder how that state has perfected that system.

John : Yeah man, you are right. I hope our America also follows their footsteps.

Alex : How are you going to cope with their language?
John : Why not? From my school days I have been learning Hindi as my first language here at New York.At the Consulate they tested my proficiency in Hindi and were quite impressed by my cent percent score in TOHIL i.e.Test ofHindi as International Language.

Alex : So, you are going to have fun there.
John : Yeah, I will be travelling in the world's fastest train, world's largest theme park, and the famous Bollywood where you can see actors like, Hrithik, and all. And dont forget superstar Chiranjeevi and his style.

Alex : You know, the PM is scheduled to visit US next year,he may then relax the number of visas.
John : That's true. Last month, Narayanamurthy visited White House and donated Rs. 2000/- for in! frastructure development at Silicon Valley and has promised more if we follow the model of Silicon City of Bangalore. Bill Gates also got a chance of meeting him. Very lucky person.

Alex : But, Indian government is planning to split Narayanamurthy's Infosys.
John : He is a hard worker man, he can build any number of Infosys like this. Every minute he is getting Rs. 1000/-. It seems, if you keep all his money converted as Rs. 100/- notes you can reach Pluto.

Alex : OK, Good Luck John.
John : Same to you Alex. And don't go to Consulate in a Kurta Pyjama because they will think you are too Indianised and may doubt you will ever come back and hence your Non-Immigrant Visa may get ejected. But don't forget to say "Namaste, aap kaise hai" to the Visa officer at Window 5. It seems he likes that and will not give you a visa if you don't greet him that way.

Source : telugu2002@yahoogroups.com


---

Introducing myself as J.V.Subrahmanyam a poet, essayist, short story writer. I have published several stories and have broad cast my stories at A.I.R. at present am engaged at writting a novel based on andhara history. Please host my name for contact :

J.V.Subrahmanyam, # 13, Kambar Street, N.M.Nagar, Chennai - 88.
Phone: 091-044-22443541. E-Mail: panisree20001@yahoo.com


---
---



Aasaa Jeevi


Kaalaraathri chusi kalathachendhaku
vacchae prashantha shubhodayam koraku veechi chudu...

Puvvu raalindhani kalavarapadaku
vacchhe vasanthaaniki swagatham paluku...

Kastaaa lallo anandhaanni panchu...
Kalathachendhe hrudhayaalalo velugu nimpu...

Kshanabanguramaina jeevithamloo kakshalanu dhari raaneeyaku
Kshana kaalamaina itharulaku premanu panchu...

Jeevitha paalasamudhraanni prematho chiluku
Vacchee amrutham koraku aasha tho veechi chudu...

Contributed by Prasad Sala


---

Cheli

Maimaripinche kurulu
Vishaalamaina kanulu
Pandulanti buggalu
Teneloore pedalu
Palarathi paruvalu
Sannai nadumu
Andalanni ekamaina roopama
Madi loni geyama

Contributed by Paravasam


---



PREMANTE?


Poolannavi pooyakapote mokkaku andam ledu
Premannadi viriyakapote manasuku artham ledu
Bratuke vyartham kaadu!
Chivurinchina vasantamlo chigurakula gundello chinukula chirujallu
Kai aalapana prema
Guburaina podallo vikasinchina pooyadallo tummeda kai tapane prema
Viriyani kaluva kanullo chandrudi kai aavedana prema
Virisina kamalam hrudi lo suryudi kai aa vedana prema

Contributed by Vasu (Subramanya Srinivas Mullapudi)


---

Hrudayam bodhisthondi telugu palakamani
Manasu ghoshisthondi telugu thalli odilo visraminchalani
Abhilasha dari chupisthondi andariki daggaravvalani

Contributed by Venkata ramana , India, 6th April 2003


---

Neti ratiri entati cheekatidaina
repati vekuva rekkalaku cheelaka maanadu kaana
payaninchi otami metla paina
cherukovali mana aasala mena

Contributed by Srini Vasu.


---

Nuvvu navadda vunnanthasepu eelokame marachanu sumeee....
Inka manam alage vundi pothe bagundani anpinchedi ..
Kani kaalam mana kosam agadu kada
Nuvvu navdda levani telisaka ika nenu vunda lenome ani madanapadi
Badapaddanu...

Kaalam bhuroopa vichtramainadi kadooo!!!!!
Nenu ninnuveedi vunnathakalam eee bhoomi alage aagi povali ani pichedi.
Kani annallu ninnu veedi vunnanduku naku naammeede kopam taapam, ika vere
Emi cheyagalanu sumee?

Nee gnapakala voobilo diginaka naku badarabhandheelu emiti ani neevu anukovacchu kada??
Adi kooda nenu cheppaleka
Vunda leka padina madanalu anekam

Rayalante ee kagitam chaaladhu
Publish cheyalante ee web site chaladu mitrama....
Inka nee gnapaka la matula to ilage vundanivvugalavu sumee

Contributed by MSRK Prasad


---
---



E - Ugadi


Eswara Parameswara edi ma Telugu Ugadi
Edi adunikhata to akaram marutunna E-Ugadi
Amani andalu apartmental perita arudavutunna Ugadi
Pachhani chetlu cinima setla varaki parimitamavutunan Ugadi
Kokila pataluku syitam garvbhanga monarche
Compact disc la ugadi
Tantri lu leni tantram Cellular Mantrala ugadi
Nava grahala nadakanu sietam marche
Navya INSAT upgrahala ugadi
Bulbu la nundi bambulu varaku remotla ugadi
Swamulu kuda scamulu chesi ugadi.
Eka naina prasadincha vayya
Navya ramya telugu ugadi




Yuddham - The War


Nadannadi nadani asanu chendaru
Nidannadi venta radani yogamu kanaleru
Vacchutappudu evvaru venta techhi yergaru
Chachutappudu emi pattu kelli poru
Mari karaku gundela karuna endi yi yuddham yenduku
Manasara manshulanu mansulanu premistu mahini muripistu undaka?
Yi, yuddham oka pedda dandaga
Agite edi viswani ki oka pedda pandaga


Vamsi Dasika,
Administrator,
Vastu Astro Numero Palmist & Research Bureau,
Astro_vamsi@Yahoo.Com
Phone No :08816-225075
Cell No :9849212125


---



Angel


Naa Jeevithana...
Cheekati sanjelu musirina vela
Chiru deepam laaa adugidi
Vennela velugulu kummaristunnavu...!

Naa brathukuna....
Kaaru mabbulu kammina vela
Thatillatha laaa merisi
Pralaya meghalanu tharimi koduthunnavu...!

Naa gunday....
Moduvaari sidhila mavutunna vela
Aaamani laaa vachi
Aasala jallulu kuripistunnavu...!

Nenu......
Daari theliyaka dassi poiona vela
Vegu chukka laaa vudayinchi
Maarga darshanamistunnavu.....!

Evarivi raaa Kanna...nuvvu...
Naaa sudheergha thapassuki mechi
Aaa devudu pampina Dootavaaa....????

Roopam theliyakunna raaga ranjithamina manasutho thana abimaananni aksharala lo podigi emails dwara naa jeevithaniki chukkani laaa maarga darsanamistunna Snehamoorthi "Neetha" ku ankitham eee kavitha kusumam.

Contributed by Kumar SSV, sskumar_jagruthi@indiatimes.com, ssk@idlebrain.com


---

Vineela aakaasa vinu veedhulakegi
vinnoothna vikyatha vijayaandhra vaibhavam
viswaanikanthatiki veenulavindhugaa
vinuvintha saralilo visruthapracharam
gaavinchu saitu (site) ki vandanam vandanam.

ituvanti padyalu raaseti vaarantha
ammayilainanu abbayilainanu
saravegamuna naa websiteki vichchesi
lekunna meekunna mail-id ichchesi
naa sneha bhaavala premanuraagala
chavichoosi venuthatti wish chesi varamichchi
padaalu jathakalipi swaraalu samakoorchi
naa thoti nadavandi navvulanu panchandi.

kavi matramekadhu artistu rajendra
kunchelaa rangulaki vibranthi meerantha
iruvayyi naalugu softuware ujyogam
jakarta nagaramuna visala nivasam
oke oka chelli,maa chinna kutumbam
meerantha choodali maa inta anandham
vosthara evarayina idhigondi ahvanam.

If u like this poem... contact me with out fail
URS Loving Raj

Jonnalagedda Sai Krishna Rajendra, Vijayawada, Andhra Pradesh, India,
Prasthutham Jakarta, Indonesia, Jonnalageddaraj@Yahoo.Co.In


---
---

Neti bharatham - neti bharatam
Upponge nadinadaalu
Uttarana himalayalu
Swatchamaina gaali
Swechhaga egire vihangalu
Chenguna guke ledi pillalu
Gala gala pare selayerulu
Maataku viluvichhe manushulu
Nirmalamaina manassulu
Manchithanam manavatvamto
Alaraarindi naati bharatam
Kutralu kutantralu
Kumbhakonalu dopideelu
Kalushitamaina gaali
Antakanna kalushitamaina neeru
Matakalahalu manabhangalu
Nityam anu nityam edo oka andolana
Daani nunche labdi kosam aaratapade peddamanushulu
Edi neti bharatam

Contributed by Satyanarayana Chalagalla


---

Prapamchamuloni telugu muddu biddalandariki munduga
naa abhinandana mandaramaala.
Teluguku raavaali purva velugu
aa velugulo manamandaram prakasinchali
teluguku vunna teeyadanaanni
panchiddam prapanchaprajalaku

Jai janmabhoomi
Jai telugu thalli

Contributed by Satyanarayana Chalagalla


---

Kovottinai migilipoyaanu
chigurutaakula remmanai migilipovaalanukunnanu
varsharutuvulo neeti binduvu navvalanukunnanu
vineelakasamlo taara navvalanukunnanu
chinna naati smrutulalo oka chirunavvunavvalanukunnanu
kavitvamane kammani paatalo gamakamai tonikinaa chaalanukunnanu
naa smruthi pathamlo nenoka tanmayi navvalanukunnanu
naa jeevana prayaanamlo naayikanavvalanukunnanu
ee visaala prapanchamlo nenuga migili povaalanukunnanu
kaani nedu nenoka kovvattinai migilipoyaanu

Contributed by Raveena Chavan


---

Arunodayam vurukodu
kiranalanu srinchanide
vasanthodayam vurukodu
parimalalanu parinchanede
prasarinche neeru vurukodu
pallamu antumuttanide
pratigatinche manasu vurukodu
prasnalanu ekku pettanede
ennoprasnalaku
vennumukalanti prasnav
ajnatanu madamagnathanuv
addampatti chupina prasana
kuchunnadi katakatala madya kondala
veechei nitturpulamadya chlinchani gundelaa
prasna chetiloni vishapatrika
palukaristunnadi jaaligaa
pranaharana gunnani digamingukuntu
paramojvala stayaniki padutunna grahananiki
paritapinchukuntu.....



"JAI TELUGUTALLIKI"
"JAI JAI TELUGUTALLIKI"
"JAI JAI JAI TELUGUTALLIKI"



Contributed by Datla Venkata Soma Raju (Phani), Atreyapuram.


---
---



James Bond


Once it so happened in a flight that, James bond was sitting besides a Telugu Guy :
Both were traveling to US.

Telugu Guy : " Hello, May I know your name please? "
James Bond : " I am Bond...James Bond."
James Bond : " And you? "
Telugu Guy :
" I am Sai...
Venkata Sai...
Siva Venkata Sai ...
Laxminarayana Siva Venkata Sai...
Srinivasula Laxminarayana Siva Venkata Sai...
Rajasekhara Srinivasula Laxminarayana Siva Venkata Sai...
Sitaramanjaneyula Rajasekhara Srinivasula Laxminarayana Siva Venkata Sai...
Bulusupalli Sitaramanjaneyula Rajasekhara Srinivasula Laxminarayana Siva Venkata Sai..."

Bond faints !!!!

Courtesy : www.geocities.com/uthonly


---



Chevi lo puvvu :


Mee kevaranna chevi lo puvvu pedutu untee ivi sahaya padatai...
Abbaaa!...
Avunaaa!?...
Alaaagaaaa!?...
Alagalagee...
Bagundi...
Challe...
Cheppu...
Chhaaaa...
Emiteee...
Inkaaa...
Inatte...
Ipoindaaa...
Kadhaloddu...
Tagginchu...
Vetakarala...
Varneee...
Viraga...
Aaha Alaga!...
Anta ledu...
Anta avasaramaa...
Chala Chusam...
Chala manchidi...
Enti Babu...
Ekkuva vaddu...
Ela kanabadutunnaaa?...
Inkem dorakaleda?...
Kasta Ekkuvindi...
Manade vvuru?...
Nee Istam...
Sare Babu...
Tassa chekka!...
Inko mata cheppu...
Adi kadu gani...

Kaasta Ekkuvinidaaaa?Anta ledanukuntaaa!

Courtesy : Sreekanth at telugu2002- Promote Telugu Yahoo group

(To join in telugu 2002 - Yahoo groups, please send a email to Telugu2002 - Yahoo Group)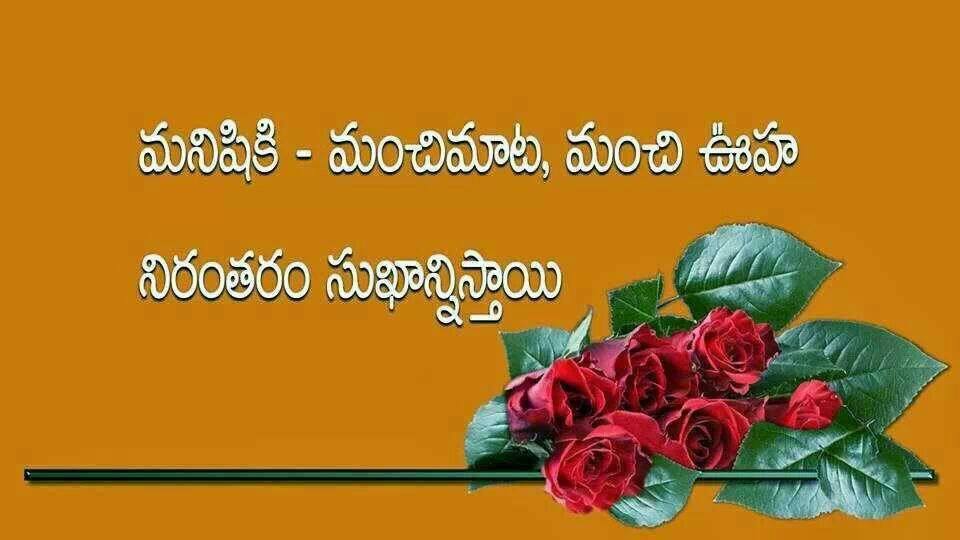 [ Aksharaalu | Calendar - 2000 | Calendar - 2001 | Calendar - 2002 | Calendar - 2003 [ Calendar - 2004 | Calendar - 2005 | Calendar - 2006 | Calendar - 2007 | Calendar - 2008 [ Calendar - 2009 | Calendar - 2010 | Calendar - 2011 | Calendar - 2012 | Calendar - 2013 | Calendar - 2014 | Calendar - 2015 | Calendar - 2016 | Calendar - 2017 | Calendar - 2018 | Calendar - 2019 |Calendar - 2020 |Calendar - 2021 |Calendar - 2022 | Chuttarikaalu | Cinema | Contributors | Culture | Deevenalu [ Disclaimer | DivineBooks | DivineLinks | DVDs | Homepage [ Jaathakaalu | Links to our sites | Mahila | Mee Page > | Music [ Nammakaalu | Old Songs | Oorlu | Pandugalu | Pramukhaandhrulu [ Pusthakaalu | Rangasthala Natulu | Registration | Saamethalu | Sanghaalu [ Samvatsaraalu | Sethakamulu | STD Codes | Teachers | Thyagayya Kirtanalu [ Vaarthaa Patrikalu | Vishaya Soochika | Weblinks


Missing Data?
Want to add URL?
Do you have a Telugu Website?

Want your name in Meeru Telugaa?


Page Last Updated:
Site to be viewed in 800 x 600 Resolution