NTR brought recognition to Telugu culture
Guntur March 2. The Minister for Civil Supplies, Kodela Sivaprasada Rao, has said that N.T.Rama Rao brought name and fame to the Telugu pronunciation style and typical Telugu attire.
Inaugurating the "Telugu Panduga, language festival, organised by the Official Language Commission of Andhra Pradesh, here on Saturday, Dr. Sivaprasada Rao said that the Telugus used to be called Madarasis prior to NTR taking a plunge into politics. It was very unfortunate for anybody to forget his own language. The State Government was making all out efforts to develop Telugu in many ways. He also said that "Amaravati Mahotsavam was going to be held in April here only to honour "our language, culture and traditions. Anthologies of poems like "Vemana Shathakam and Sumathi Shathakam were not to be seen nowadays, he lamented. After all, the "Shathakams imbibed morals and also a beautiful language among the people. Those poems empowered even illiterate people with good command over the spoken language and power of expression.
The Minister for Social Welfare, J.R. Pushparaj, said that Telugu was being implemented only in the realms other than enactments and official communications in the State hair extensions clip in polo ralph lauren clip in full head He underscored the need for using Telugu in enactments and official communications. By prefixing Telugu as an epithet to every scheme, the late N.T.Rama Rao left an indelible impression of the language in the minds of the people, pointed out Mr. Pushparaj.
The chairman of the Official Language Commission, Madugula Nagaphani Sarma, eulogised the greatness of a typical Telugu man. Pouring sarcasm in the form of a poem on the excessive use of English, Dr. Nagaphani Sarma said: "Use English like an eye-liner (`kaatuka), but do not apply it to whole of your body, as you may look dark. Use English like asafoetida (`Inguva) -- used for fragrance in food, and it in itself should not be consumed as food. He reminded the District Collector, Hiralal Samariya, that the later was the chairman of the District-level official language commission.
SOURCE :
HINDUONNET.COM (HINDU dated 3rd March 2003)
---
---
C. P. Brown, the Savior of Telugu Culture
British rule in Andhra had both positive and negative aspects. On the positive side of the coin, we have eminent people like Charles Philip Brown who rejuvenated the Telugu literature.
Charles Phillip Browns father Reverend David Brown, a Christian missionary, came to Calcutta in 1786. Reverend Brown learned several Indian languages to understand the culture and religion. Charles was the second son of Browns, born on November 10, 1798. The family went back to England after the death of reverend Brown. Charles studied Sanskrit in college with an aim to work in East India Company and obtained a gold medal in Sanskrit Studies. East India Company sent him to Chennai (Madras).
Charles arrived at Chennai on 4th August 1817. At that time he didnt even know that there existed a language and nationality called Telugu or Andhra, just like anybody outside India even today. He joined St. George College to learn Telugu from Kodandarama Pantulu. He became proficient in Telugu within sixteen months at the time when Telugu Pandits didnt know any English at all.
In 1820 Sir Thomas Monroe came to Chennai as governor and ordered that every official in the Company should be proficient in the local language and perform their duties in the local national language. (Compare the situation today: Many officials feel shy to speak in Telugu in State government offices. Central government officials have a right not to speak Telugu. Even the Kirana merchant in Hyderabad looks at you like an idiot villager if you speak in Telugu. English or Hindi or Urdu works wonders in Hyderabad, the Capitol City of Telugus).
Charles started his career in Kadapa (Cuddapa) as an assistant to the Collector. Mr.Han Bury, the collector used to speak very fluent Telugu. (many collectors in Andhra Pradesh today are non-Telugus and dont speak Telugu at all.) Charles chose him as his model and tried to emulate him. Charles Brown established two schools in Kadapa and arranged for free education in Telugu and Hindi with Indian teachers. He arranged for free meals to the school children. He also started two more schools in Machilipattanam, with free food for students.
He got interested in Vemana in 1824 and studied Vemana, other Telugu literature, meter and grammar under the guidance of Venkatasivasastri Tippabhatla and Advaitabrahmasastri Vatthyam. Charles Brown was transferred to Rajamundri in 1825. He continued his study of Telugu literature. He collected the written scripts of Telugu Kavyas (poems) that were on the verge of extinction. He hired some copyists/writers (raayasagaallu) to prepare fresh copies. He reprinted Andhra Mahabharatamu and Andhra Mahabhagavatamu. He found a shelter for the destitute Goddess Telugu Saraswati and was able to redecorate her like a married woman.
He went to London on vacation (during 1835-38) and collected 2,106 hand written books in South Indian Languages from the India House Library and sent them back to Chennai Library. He edited and published several Telugu and Sanskrit books after he came back from London. He collected sayings, stories, poems etc. that were popular at that time among common population. He also wrote several grammar books and learning materials for English people who were interested in learning Telugu. Madras Oriental Library hoards several of C. P. Brown works.
Charles P. Brown spent his own money for the development of Telugu and even took loans for the same. He saved every penny for the development of Telugu. Even in the tough financial times he didnt give up his Telugu development programs. He retired in 1854 and settled in London. He worked at London University as Telugu Professor for some time. He died in 1884 on December 12 at the age of eighty-seven. His selfless service to Telugus and their culture and literature is unparalleled even among Telugus. Every Telugu Indian should remember his services to Telugu culture and its preservation.
Hanumachchastri Janamaddi says, "minuku minuku mantunna Telugu waangmayadeepaanni snehasiktam chesi prajwalimpachesina aandhrabhashodhdhaarakudu C.P. Brown." (C. P. Brown, the savior of Telugu Culture and Literature, rekindled the dying lamp of Telugu literature with his friendship and service.) For more information, please visit : www.engr.mun.ca/~adluri/telugu/modern/people/cpbrown1.html

Sreenivasarao Vepachedu
Source : www.vepachedu.org


---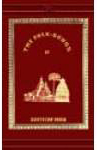 Folk Songs of Southern India



Brief Description:
Dravidian Poetry - Translation into English , FolkSongs.
---
Telugu: Kasiyatra Charitra by D. Siva Rao & Virasami